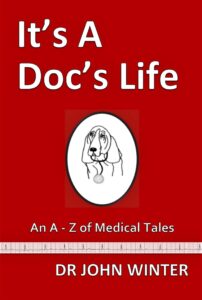 This book is available now on Amazon as a Kindle e-book, as a hardback, and as a paperback.
John Winter qualified as a doctor from Liverpool University Medical School in 1969.   As well as writing books, he worked in medicine for over 45 years, spending most of his time in General Practice in and around the city of Liverpool.
In 1971 he was the medical officer on an expedition to tackle the West Ridge of Indrasan, a notoriously challenging mountain in the western part of the Himalayas.   He subsequently carried out research in the Everest region of Nepal, looking into the then poorly understood problem of altitude sickness which was claiming the lives of trekkers to Everest Base Camp.
In 1974 he spent some time as a GP in the Australian outback.
These varied experiences have provided him with the stories which appear in 'It's A Doc's Life'.   Within its pages you will read about 'Eric and Derek' and 'Dirty Ventriloquism'.   You will meet 'Mr and Mrs Parrish', and the medical receptionist who helped out in the early days of The Cavern Club when The Beatles were just one of many local Liverpool bands.   And you will see pictures of a 'Yeti scalp', a 'Yeti hand', and a set of Yeti footprints which the author saw and photographed on the slopes of Everest.
Some of the stories in the book will make you laugh.   And some might make you feel a little sad.   They are tales of hope and loss, of sickness and of health.   They are the stories of experiencing life as a human being.
"A triumph of a book.   Extremely entertaining.   I laughed out loud at some of the stories."   (C.R. – Worcester, England)