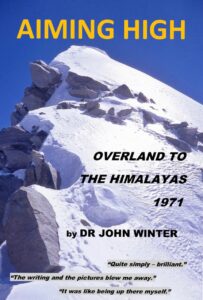 This book is available now on Amazon as a Kindle e-book, a fully-illustrated coffee-table hardback, and as a paperback.
It describes an overland journey from the city of Liverpool, in England, to India and the high peaks of the Himalayas.
John Winter qualified as a doctor in 1969.   In 1971 he was the doctor on an expedition which planned to make an attempt upon the unclimbed West Ridge of Indrasan, a mountain over twenty thousand feet in height which many experts said was more difficult than Everest.
The overland route to India, along what became known in the 1960s and 1970s as 'The Hippie Trail' would now be almost impossible to complete because of the dangers which travellers would face in countries such as Afghanistan.
As well as indicating how very different things were in 1971, the book also describes a personal journey.   Before joining the expedition the author had no experience at all of mountaineering.   He had not even attempted the easy walk to the 3,560 ft summit of Snowden, the highest peak in England and Wales.
This book is a tale of high-altitude mountaineering as seen through the eyes of a non-climber.   It is a story of the medical problems and the physical dangers which have to be overcome when climbing the world's highest mountains.
The whole experience was exhilarating and unforgettable, but he had to learn fast how to look after himself if he was to beat the odds.   The Himalayan statistics told him that there was a one in eight chance that he would not return home.
"Quite simply – brilliant."
"The writing and the pictures blew me away."
"It was like being up there myself."